Five places in Mexico your Mother will love
Mexico is full of charming places that will enchant any mother. Just picture yourself exploring streets full of live and color, incredible food that will make your mouth water, and enjoying the smiles of the warm people who make these towns truly magical.  Yes, we now you will love it so it's time to surprise mom and take her to experience these magical adventures.
Here are great options to spoil her this month and enjoy a unique family vacation.
Hidden Garden: Atlixco, Puebla
Atlixco de las Flores is the most beautiful garden of Mexico. This Magic Town has beautiful colors everywhere. Surrounded by several greenhouses it's the best place to find flowers of any kind. Due to its perfect weather, enjoying of a peaceful moment at the kiosk it's a most! If you love ice cream, you will have fun tasting all kind of unique flavors at (METER NOMBRE).
Don't leave Atlixco without visiting "El Jardín Mágico" (The Magic Garden) a botanic area with beautiful flowers and unique animal flowered sculptures that are incredible to see.
Coffee Aroma: San Cristobal de las Casas, Chiapas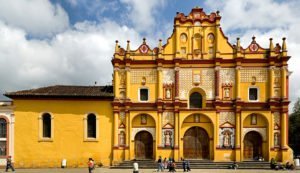 You won't get bored discovering San Cristobal de las Casas, every corner has something enchanting to explore. Walking is the best way to visit the city. The architecture will surprise anyone: colonial houses, cobblestone streets, baroque style churches. You will find artesanías (handicrafts) everywhere, from rebozos, traditional blouses to unique jewels made with amber. For coffee lovers, San Cristobal is the perfect place, after a long walk a hot coffee will be the best excuse for a nice chat, the aroma of roasted coffee will embrace your senses.
Time Machine: Guanajuato, Guanajuato
A trip to Guanajuato is a time traveling experience. Packed of historical places, every building in the city has a story to tell about Mexico. The colonial streets of Guanajuato will make you feel in another era. The Mummies Museum it's a must see for those mommies with some curiosity and… Don't be terrified with the legends! Those are marvelous stories full of tradition and not all of them are scary, the Kiss Alley will tell you a love story. Furthermore, whether inside the Juarez Theater or just out on the streets, Guanajuato is a place full of culture and artistic manifestations.
Paradise in the Sky: Hierve el agua, Oaxaca
In Guanajuato you travel through time, but in Hierve el agua, Oaxaca, time has stopped. The view from this static water formations are stunning. Moms looking for adventure, this is your place! Use comfortable shoes and be ready to climb this rock formations created from mineral water throughout thousands of years.  At the top of the rock you will find paradise touching the sky, go ahead dip in and enjoy this incredible moment in time.
 Turquoise Mayan Kingdom: Tulum, Quintana Roo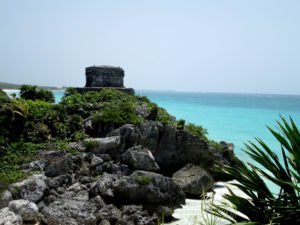 The Kingdom for the Queen! Tulum archeological site is the place to learn, relax and enjoy of a magnificent view of the Caribbean. This Mayan archeological site standing along the Caribbean coast is impressive, not only because of its well-preserved buildings that still conserve some pigments of their ancient colors, but for the beauty of the natural environment surrounding the site. Swimming in the beautiful turquoise waters besides the ruins would be the best gift for the most important person.
After all these options, which city would be the perfect for your mom? Let us know so we can start planning your adventure together!