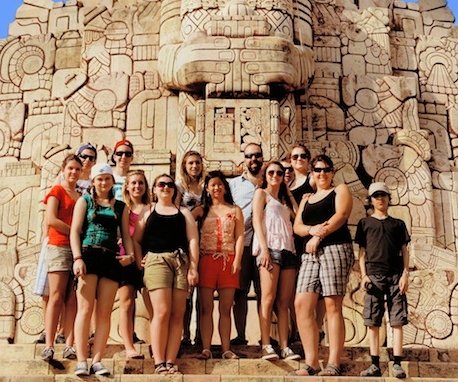 Get to know Merida!
People from Yucatan have this fame all though Mexico of being really warm and pleasant. The capital city is Merida and it is rich in culture, it also offers a huge variety of delicious gastronomy and for dancing and having a refreshing beer there are many places too, such as the popular cantinas!
When I first arrived in Merida I was only seven years old, so for me what was real were the few places I could see in my everyday routine, like my school, my grandma´s and my friends homes, my own, you get the picture. The rest of the city was imaginary for me, and obviously the center of Merida was far from my childhood world. That was a long time ago, in my today life going to downtown and all around is my day to day reality. If you want to get to downtown Merida is really easy! there are lots of public transportation, is a matter of asking for the right bus and once you get there everything gets close by walking, and doing so is really amazing! Because you find new beautiful places, taste delicious food, such as "esquites" and "marquesitas", the first one is sweet corn with sour cream, cheese, lemon and hot sauce, and the second one are a typical yucatecan snack filled with strong cheese. Yucatecan people have fame in Mexico of being warm and nice, I´m not joking it has been written in songs! And since I have been living here I can honestly say it is true.
The city is rich in culture, trough the week there are activities that take place in different sites of the city, you can ask in your hotel lobby what is the event for the day. Merida possess great arquitecture, you can find lots of galleries and museums, the cathedral is located in front of the plaza, and is the second oldest in all of Latin America, it is dedicated to Saint Ildefonso.
My favorite thing is food! So here I go: the city offers a variety of delicious food that goes from small joints in the popular markets, such as the one of Lucas de Galvez where you can find the famous"cochinita pibil", to gourmet cuisine in amazing restaurants all around the city; and everything delicious in between. A restaurant located in downtown I recommend would be Amaro, it is an old colonial house, that also works as a gallery and the tables are under a Ceiba tree, sacred for the mayans because represents life and dead itself, the restaurant serves popular yucatecan dishes, and there is always live music, mainly trova, really good! Another one would be "El Colón", this consists in a local ice cream shop, and they have tons of yummy flavors to choose from, mainly of fruits from the region, like "mamey" and "zapote", great for the hot weather. Right now in Merida you can also find in a lot of zones street food, the ones called food trucks.
For dancing and having a refreshing beer there are many places such as the popular cantinas were they also serve stronger drinks like mezcal, as well as yucatecan snacks, one popular cantina is called "La Negrita".
Because of our beautifully intense mexican sun I recommend you to wear a hat and biodegradable sun block during the day and that´s it! Enjoy Merida!
If you would like to visit this amazing city, check our Cantina's Tour